Select Client List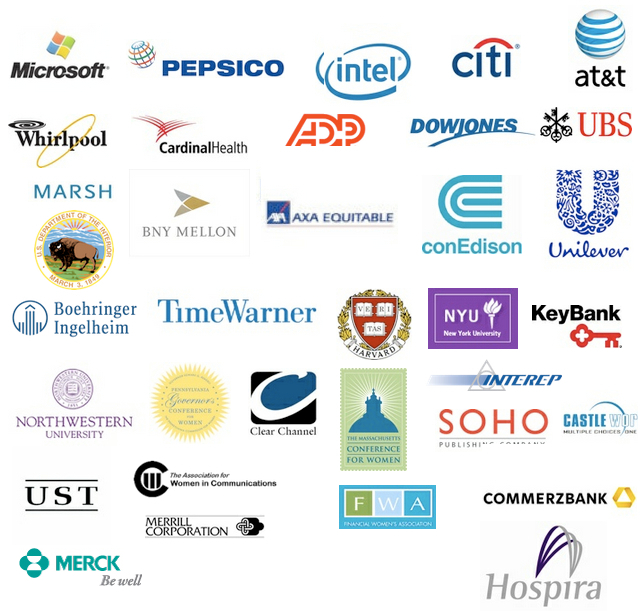 Testimonials
"Catherine Kaputa came in like a whirlwind of fresh ideas that turned my thinking about my brand upside down! She gave me ideas and motivation to define and differentiate my personal brand, to think bigger about myself and talents, and the tactics to bring maximum benefit to me and the company I work for."
Sales Executive, Microsoft
"Your brand can make you a star in the business world — or break you. That's why Catherine Kaputa and her ideas on personal branding can make such a difference. Her speaking event at PepsiCo was very well received. She gives those who attend her talks, practical and strategic steps to achieving what they once saw as an imposssible dream."
VP, Organizational Development, PepsiCo
"Catherine's advice is not to be ignored. I read her book a year ago and was fortunate to be able to get her as a speaker at one of our events. Big impact and advice. Have her speak to your group…you won't regret it."
Senior Technologist, Intel
"We are receiving rave reviews on your session with us. I'm starting a blog on the notes taken by several members. They were very impressed with you and the need to brand ourselves."
Executive, AT&T
"Thank you again for bringing your knowledge and advice to Cardinal Health with your personal branding session two weeks ago. We have had phenomenal feedback on the event; it has been the most highly attended of the year and we are getting numerous emails of thanks from members!"
VP, Cardinal Health
"Thank you so much for your world class presentation on personal branding. I have attended many keynote presentations and have never before left with so many concrete steps to improve performance and with such an overwhelming sense of empowerment. This is exactly the right message we needed to hear."
Executive, Whirlpool
"Thank you again for joining us last night as our featured WEBB guest speaker…I really enjoyed seeing you bring even more life to the stories and examples portrayed throughout your book. We had over 120 attendees and the feedback has been overwhelming positive. A number of the women expressed an interest in reaching out to you directly to assist with either their corporate initiatives or personal branding goals."
Managing Director, Marsh
"Everyone loved the presentation. You did a great job motivating our high potential women to achieve great things. It was witty with great stories. It really got the group talking about personal and business goals."
VP, Dow Jones
"Catherine's talk was passionate, insightful and, most important, relevant to our women sales professionals. She offered provocative insights about how they can nurture their strengths and aptitudes to empower themselves for increased success. We'd love to have her back at another event"
Group VP, ADT
"It was a wonderful event. I heard many positive comments about your talk today. Someone said it was the best event we've ever had on campus."
-Senior R&D Executive, Unilever